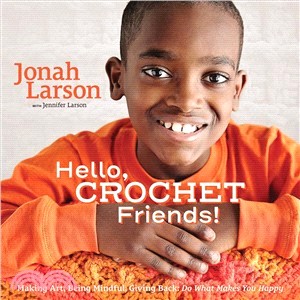 Hello, Crochet Friends! ― Making Art, Being Mindful, Giving Back: Do What Makes You Happy

ISBN13:9780999143704
出版社:Kwil Pub
裝訂/頁數:精裝/48頁
規格:26cm*26cm*1.3cm (高/寬/厚)
出版日:2019/07/23
定 價:NT$630元
可得紅利積點:17 點
海外有庫存,下單後進貨(等候期約30個工作天)
A celebration of the beauty and power of crochet—specifically, the life-changing benefits this fiber art has brought to one extraordinary boy, 11-year-old crocheting prodigy Jonah Larson.
As his tens of thousands of crochet friends already know, Jonah can crochet anything, including a cowl that has become his signature piece, bright afghans, intricate doilies, fashionable hats, and stuffed animals. A worldwide audience follows his every stitch. Jonah has won over fifty awards for his work, been featured in leading crochet publications, and is partnering with a major yarn company for the creation of new projects and online tutorials. In short, Jonah has been credited for lighting the crochet community on fire, and he is proud to help spread the word—crochet is anything but a dying art.
What Jonah's crochet friends may not already know, and what Jonah would like to share with them and young people everywhere, is that through crochet he is also piecing together a pattern for his life, a pattern that he has now turned into the title of his first book, Hello, Crochet Friends! Making Art, Being Mindful, Giving Back: Do What Makes You Happy.
Woven into Jonah's beautifully photographed and detailed autobiography are three important themes:
Making Art. Jonah welcomes readers into his process, sharing everything from his preferred crocheting atmosphere—end of sofa, lights dimmed, close to his mom—to his favorite stitches and yarns. How can Jonah crochet so quickly? He writes, "It's like breathing to me."
Being Mindful. For many years, school was a place where Jonah, despite excelling academically, kept getting into trouble—sometimes big trouble. Jonah writes, "…nothing seemed to be working…" to make things better. Nothing, that is, until he discovered crochet. It was an uncommon interest for a kid his age and his gender, but Jonah didn't care. Crocheting calmed his mind and made him happy; and in fifth grade, his teacher invited him to bring his crocheting to school. Now Jonah could pick up a hook and some yarn and "crochet away" any urge to misbehave. Jonah writes, "I quickly noticed something I didn't expect or understand. When I was crocheting, I didn't feel jumpy or jittery. I didn't feel like I needed to do something to get attention. My mind was quiet, calm, and peaceful."
Giving Back. Going viral has connected Jonah with new friends around the world, introduced life-changing opportunities, and, importantly to Jonah, created a more significant platform for giving back, including to the community in Ethiopia from which he was adopted.
Before Jonah concludes with his bright smile and signature wave, there are fourteen bonus pages celebrating crochet. Jonah offers an introduction to the art, lists his "Favorites," and reveals an exclusive pattern for an identity-inspired dish cloth, one that he hopes that his crochet friends will create (and share!). The sample Jonah provides is crocheted using the colors of the Ethiopian flag—red, yellow, and green.
Written with the same confidence, sincerity, and kindness that Jonah's crochet friends will recognize from his online tutorials, Hello, Crochet Friends! offers its readers a celebration of a beautiful and powerful fiber art and another treasure from Jonah's hands.
Jonah Larson began crocheting at age five. Today, at age 11, Jonah has a significant social media following from around the world and is using his platform not just to share crocheting tutorials, but also to share his inspiring pattern for life. Jonah has crocheted thousands of projects in his eleven years, but Hello, Crochet Friends! Making Art, Being Mindful, Giving Back: Do What Makes You Happy is his first book. Jonah lives with his family in La Crosse, WI. You can follow Jonah online @jonahhands and view his tutorials on YouTube.
Jennifer Larson, Jonah's mother, does not crochet. In fact, the only hooks she picks up are the ones Jonah leaves lying around the house! Jennifer, a former hospital administrator, supports her son in many ways, including her role as the co-author of his picture book autobiography Hello, Crochet Friends! Making Art, Being Mindful, Giving Back: Do What Makes You Happy. Jennifer is also a proud mother to Jonah's brother, Leif, and sister, Mercy, and is happily married to her husband, Chris. When hanging out together, there's a good chance the Larsons will be sitting on the floor because, of course, beloved dogs Bella and Charlie will have taken up all the room on the couch. Jennifer, her family, and their dogs live in La Crosse, WI.
Erin Harris is an accomplished portrait and event photographer. Prior to launching her photography business (Erin Harris Photography) in 2015, Erin spent fifteen years teaching Spanish to elementary and middle school students. Erin lives in Fox Point, WI, with her husband and their seven children. She is also the executive director of the Mark Harris Fellowship Program, a non-profit organization that honors the legacy of her late husband by providing underprivileged youth with mentoring and college scholarships.
購物須知
為了保護您的權益,「三民網路書店」提供會員七日商品鑑賞期(收到商品為起始日)。
若要辦理退貨,請在商品鑑賞期內寄回,且商品必須是全新狀態與完整包裝(商品、附件、發票、隨貨贈品等)否則恕不接受退貨。
外文館商品之書封,為出版社提供之樣本。實際出貨商品,以出版社所提供之現有版本為主。部份書籍,因出版社供應狀況特殊,匯率將依實際狀況做調整。
無庫存之商品,在您完成訂單程序之後,將以空運的方式為你下單調貨。為了縮短等待的時間,建議您將外文書與其他商品分開下單,以獲得最快的取貨速度,平均調貨時間為1~2個月。